John Mariani - The Virtual Gourmet
Besides reporting for Celebrating Act 2™, John Mariani is the author of over a dozen books. While many are about Food and Travel, his work also includes a few novels, some of which have been serialized in Mariani's popular Virtual Gourmet Newsletter.
He also hosts a weekly radio show on WVOX Radio (click image below) talking with a wide variety of fascinating guests.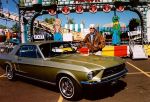 You can learn more about John as well as contact him and subscribe to John's FREE Newsletter about food and travel, The Virtual Gourmet, by going to his website:  JohnMariani.com
Meanwhile, enjoy the many videos (below) he has done with Celebrating Act 2!